ANOTHER HOT JAZZ NIGHT IN MAD TOWN
On Wednesday May 6th Jazz at Five will kick off their 2015 season with an annual Fundraiser!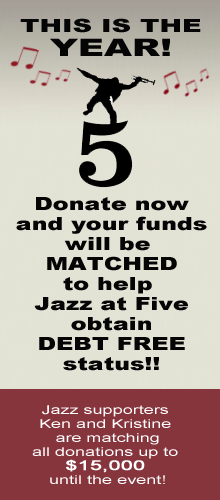 The 2015 Jazz at Five fundraiser will be at the Boardman and Clark law firm atrium starting at 5:30pm at 1 South Pinckney Street on the fourth floor.
Overlooking the capital, the Boardman and Clark atrium is the place to be on Wednesday, May 6th. The Milwaukee Jazz Club will be heating up the night with their swinging jazz. With the weather warming up guests should be able to enjoy the fourth floor outdoor patio attached to the atrium.
The live jazz performance runs from 6pm to 8pm. You can purchase a ticket for $15 per person right here on the website or $20 at the door. All proceeds from this event are donations to Jazz at Five. Jazz at Five is an all-volunteer organization all proceeds from ticket sales, alcohol sales, and raffle tickets are donated directly to the Jazz at Five organization. For more information about our financial statement, visit this page.
What is exciting this year
In 2007, Jazz at Five had a $100,000 debt.  With the help of local businesses and our dedicated volunteers, the debt has shrunk to $30,000. The Jazz at Five goal is to get the debt down to zero. By not having any debt Jazz at Five can grow the program; bringing in more diverse acts, growing our downtown community, and promoting downtown Madison as the place to be.
Jazz supporters Ken and Kristine are matching all donations up to $15,000 to Jazz at Five from now to the Fundraiser to make Jazz at Five debt free. Each donation gets Jazz at Five closer to the goal of zero dollars of debt.
Come join Jazz at Five and Milwaukee Hot Club in the fundraiser kick off of the 2015 summer series.
Jazz at Five is a 501 (c) 3 corporation, any and all donations received online or by check will receive a tax receipt.
Come support Jazz on Wednesday, May 6th! Your donations not only benefits the Jazz at Five organization, but every penny goes right back into making downtown Madison the place to be!
Please remember to bring your purchasing credit card with you to the fundraiser, as that will be your ticket into the event. Your credit card will be used in place of a printed ticket.
Purchase your tickets here to the Annual Fundraiser.
Ticket Price:  $15 Adv. / $20 at the door
$15.00