Jazz at Five 2022 Performance Series
The 2022 Jazz at Five Performance Series… Five shows between two locations.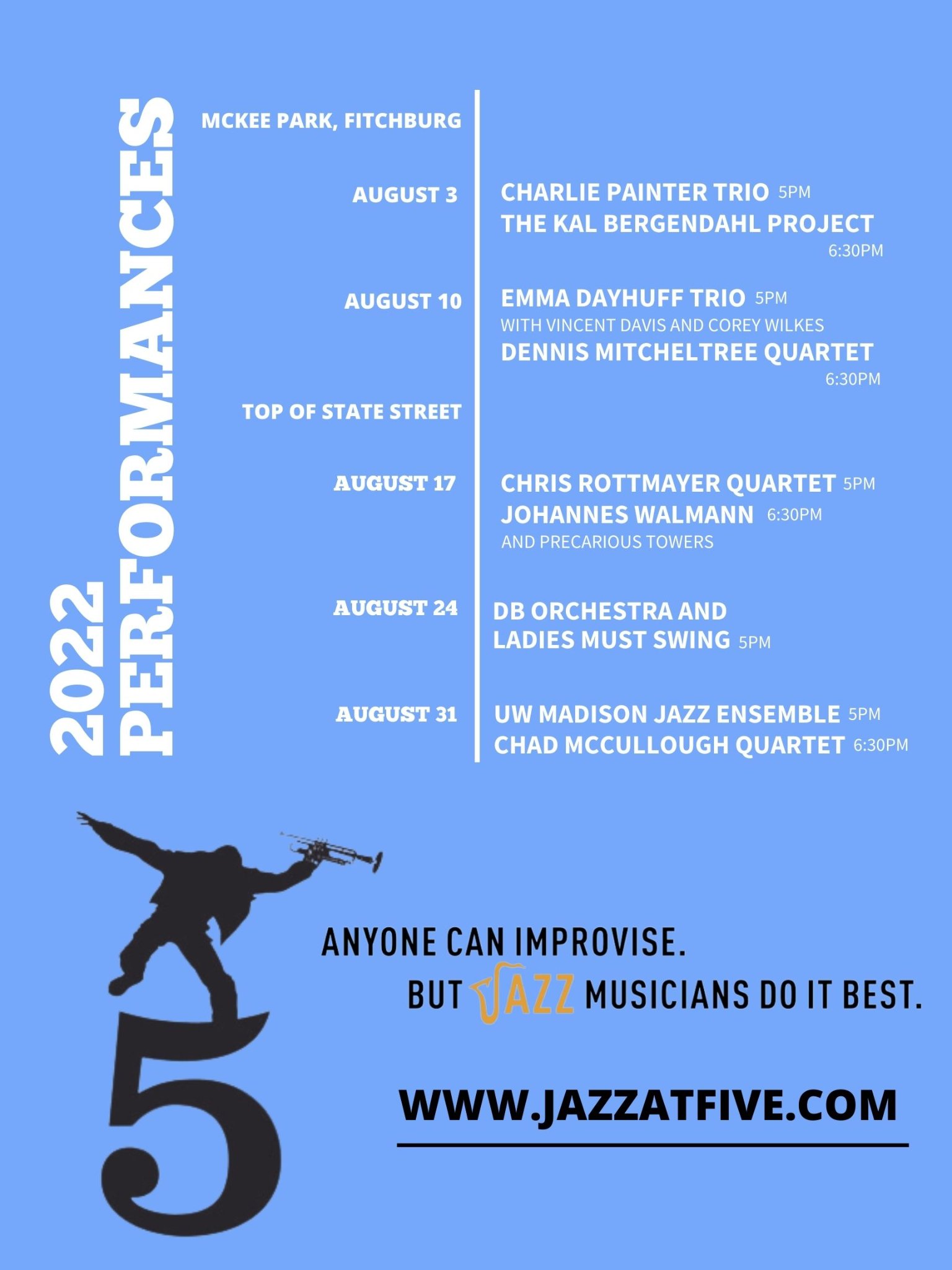 Audience members can picnic at McKee Park or enjoy a day at the downtown Madison outdoor cabaret. Enjoying terrific music and fine Wisconsin evenings. Conversation and comradery are encouraged.
The season kicks off on Wednesday, August 3rd with Madison Band Charlie Painter Trio, a stalwart of the Madison Jazz scene, playing jazz at 5
pm. Then, joining us is the Kal Bergendahl Project a top notch, smoothy jazz band at 6:45 pm.
On the 10th Madison native, the Emma Dayhuff Trio featuring Vincent Davis and Corey Wilkes, a group that mixes soulful lyricism with
adventurous experimentation to perform at 5 pm. Followed by the great Dennis Mitcheltree Quartet a group that has t
ravelled the world performing their modern jazz..
August 17th, jazz pianist and composer, Chris Rottmayer Quartet brings his groove-friendly, straightforward jazz to the stage at 5pm. Ending the evening is UW Director of Jazz Studies Johannes Wallmann and Precarious Towers their newly released avant garde jazz compositions.
August 24th is the Jazz at Five "Summit of the Big Bands". From 5pm to 8pm the DB Orchestra and Ladies Must Swing will take turns playing jazz classics and ending the evening with a grand finale
Ending out the series on the 31st, is UW Night. The UW Madison Jazz Ensemble All-Stars led by trumpeter and composer, Chad McCullough will perform for our 5 pm show. At 6:45 enjoy Chad McCullough Quartet performing music from his latest album "Forward", lauded by jazz critics as one of the top releases of 2020.
Jazz at Five board will not consider a performing group unless all information above is provided.
Below is an illustration of the stage set up.