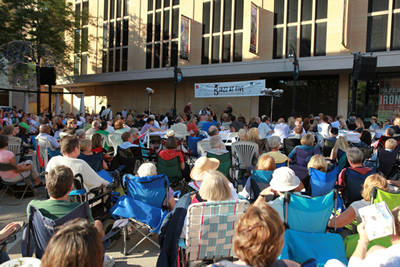 The Show
Jazz at Five performances take place on our outside stage at 100 State Street—at the top of State Street in Madison, Wisconsin. This is a prime location in downtown Madison, just steps away from some of the capital city's best restaurants, bars, hotels, and attractions.
Jazz at Five is an open seating event and free to the pubic—beginning at 3:30pm, you can sit anywhere provided you respect the presence/privacy of fellow fans and local businesses.
The one exception to this policy are sponsorship tables, which must be reserved in advance. Reserved tables offer additional comfort, great sound/sight lines, and additional amenities such as food and beverage service. This is a great way to entertain clients and friends while enjoying Jazz at Five in style.
Please email: info@jazzatfive.org information.
On the Capital Lawn
NEW this year … Jazz at Five patrons can seat on the lawn of the Wisconsin State Capital. Unlike State Street which is part of the City of Madison, the Capital lawn is a State Park. Attendees on the lawn can bring their own beverages and food to this area, much like "Concerts on the Square." This is a new privilege for Jazz at Five, please be respectful.
Chair Rental
Fans who do not bring their own chairs can rent one from Jazz at Five for $3 each. Chair rentals are available from the onsite Information Tent by 4:00 pm day of show.
If you would like to reserve a large number of chairs in advance (e.g., for a group outing), please email the production team for more information.
Food and Beverage
If you are seated in the reserved table area, Jazz at Five provides table service. No food, alcoholic beverages or beverages in glass containers may be carried in.  All net proceeds from Capital Brewery beer sales are donated to Jazz at Five.
Note: As per City of Madison ordinances, it is permissible to consume alcoholic beverages within the concert grounds (defined as the 100 block of State Street). However, you must purchase alcohol from a licensed Jazz at Five vendor; carry-ins are prohibited.
Audio and Video Policy
In accordance with performer contracts, audio and video recording of Jazz at Five performances are prohibited.
Questions at the Show?
If you have questions or need assistance while attending Jazz at Five, please visit the onsite Information Booth to talk with a volunteer.
Jazz at Five volunteers will also be walking among the crowd with red volunteer Jazz at Five shirts—please don't hesitate to ask for assistance.
Want to be a volunteer please email info@jazzatfive.org